31st Annual Canadian North Balsillie Cup
Old Timers Hockey Tournament
April 3-6, 2014, Yellowknife, NT
The Balsillie Cup Old Timers Hockey Tournament has been a Yellowknife tradition since the early 80s. The tournament, now in its 31st year attracts teams from across the Northwest Territories and Nunavut, on occasion Northern Alberta and even once a team from New Hampshire, USA. Old Timers hockey got its start in Yellowknife in the late 70s. Two brothers, Bob and Pat (Moose) Balsillie organized the first Balsillie Cup in 1983. The 'A' Division championship trophy is dedicated to their late father John. G Balsillie, a tireless Yellowknife hockey supporter.
There are several Yellowknife Old Timer teams which have a long history including the Back Bay Blades, the Ol Packers, the Ol Blasters and the Gold Dusters. The teams may have changed sponsors a number of times but they have had heated on ice battles (most friendly ones) during the Balsillie Cup for years. The Blades hold a record that will not soon be equaled as they were Balsillie Cup 'A' champs for five consecutive years.
The tournament has grown over the years where it now includes five divisions. A number of the trophies and awards such as the 'C' (Blaster) Division championship trophy are dedicated to well-loved players such as Terry "Teek" Coe. Terry lost his battle with cancer a number of years back and when he knew he did not have much time left, his fellow players and close friends let him know about the trophy that was to be dedicated to him. Terry passed away only hours before his memorial trophy was first presented.  A Division MVP award is also dedicated to Roy Ellis. Roy was a local teacher who played with the Yellowknife Rangers and was an active community volunteer with a number of community organizations including the old timer's hockey association. Loretta Ellis, Roy's widow has made the trip to Yellowknife a number of times from Saskatchewan where she now resides to present Roy's trophy.
Teams from many of the North's smaller communities such as Wha Ti, Fort Resolution, Lutsel K'e, Tulita, Deline, Rankin Inlet, Gjoa Haven and Cambridge Bay often make the trip to Yellowknife for the Balsillie. The high cost of northern travel makes fundraising a challenge but they find a way to part of the tournament each year.  Along with supporters who make the trip to the tournament, family and friends of the players living in Yellowknife always come out to their games to support them and if they reach the semis or finals the noise level at the rink reaches a peak because everyone likes to see the out of town teams do well. The "A "(Balsillie) division of the tournament features some highly competitive hockey and players who still compete at a very high level. The championship final will often involve one of the stronger Yellowknife teams such as the Blades or Packers and team from Hay River or Inuvik. The pace is fast and you wouldn't think you were watching "Old Timers" hockey.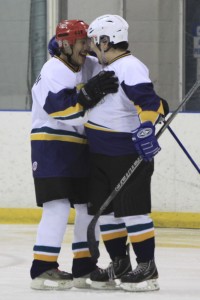 One of the longest serving executive members of the Yellowknife Old Timers Hockey Association (YKOHA) is Gary Sibbald. Gary, now serving as past president has been an executive member of the association for 25 years. For all of those 25 years he has been a key organizer of the Balsillie Cup. As a matter of fact until recently, his custodial services company office has been considered the league office. Gary is also one of the oldest players in the YKOHA. You'll find him gliding between the blue lines or pouncing on a loose puck for a garbage goal two or three nights per week during each winter. Gary admittedly was not a highly touted prospect, even in his younger days but has always enjoyed the game. One year when the Balsillie Cup was approaching and he was not looking forward to another tournament where his fairly competitive team would provide him limited ice time, he let his teammates know that he was forming his own team. Bill Burlington , one of his more skilled teammates asked Gary what he would call his team and Gary, perhaps a little "steamed " at the time yelled……"We'll just call them Gary's Rejects!". The name stuck and for more than 15 years "Gary's Rejects have been a mainstay in the 'B' Division of the Balsillie Cup. Gary has now also started another new team in the 'Over 45' Division of the tournament called "Gary's Absorbine Seniors" dedicated to the aches and pains of all old timer hockey players.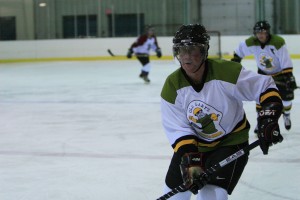 Another colorful character in the league is Allan "Cats Eye" Cardinal. Al, now approaching his mid 60s plays hockey every night he can. He is the only player that all teams in the league have on their roster. He usually keeps six to eight sweaters in his hockey bag depending who he is playing for that night.  The league schedule on most nights has two games and Al will always lace up for both games. Originally from Fort Resolution Al has lived in Hay River, Fort Simpson, Fort Smith, Lutsel K'e and Yellowknife. On many winter weekends Al hits the road to play in a tournament anywhere he can drive to.  He has more than 40 years of old hockey stories to share with anyone who will listen including vivid descriptions of winning goals he has scored over the years. The Balsillie Cup would not be the same without Al but he has forced the league to adopt the "Al Cardinal Rule" which rules that players over 45 may only play in two divisions including the over 45 division. If Al had his way he would play in all five.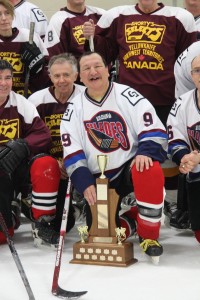 The 31st annual Balsillie Cup promises to be another great event where skaters from across the North come together to keep their hockey dreams alive.
Canadian North the tournament's main sponsor will provide prizes including airfare anywhere Canadian North flies as player and fan appreciation awards. Another featured event will be the "Shoot to Win" competition open to all players and fans.